AROUND MAZATLAN
Popular Areas and Local Tips Around Mazatlan
Check out Our FAVORITE
popular areas and local tips around mazatlan

Olas Altas
Marina Mazatlan
Cerritos
Golden Zone
Malecon
Mazatlán's Historic Center is a vibrant neighborhood filled with French-style 19th and 20th century buildings, many of which have been restored. It is a walkable community, with outdoor meat and produce markets only blocks away from banks and department stores.
Visitors can explore art galleries, small museums, boutiques, and a range of bars, restaurants, and cafes, as well as historically significant attractions such as the Ángela Peralta Theater.
The Plazuela Machado—a family-friendly square, comes alive with live music in the evenings, and a local artisan market on weekends.
Most walking, biking, and Segway tours of Mazatlán will pass through the Historic Center and typically include stops in Plazuela Machado.
Olas Altas is the main beach to visit in the Historic Centre. The water here can be strong, but the sun-bathing is wonderful. Olas Altas is also where many bars and restaurants are located, as it is as close to the water as you can get in Centro.
More information
Secondary beaches would be Playa Los Pinos, Playa Norte, or the beaches at Stone Island, easily accesible by ferry.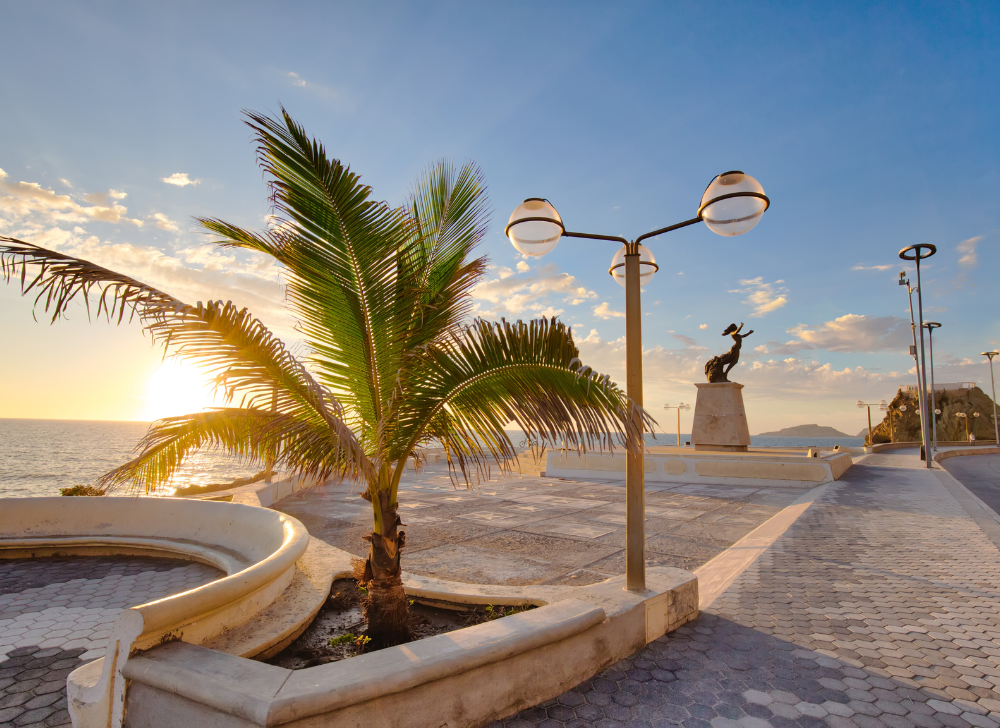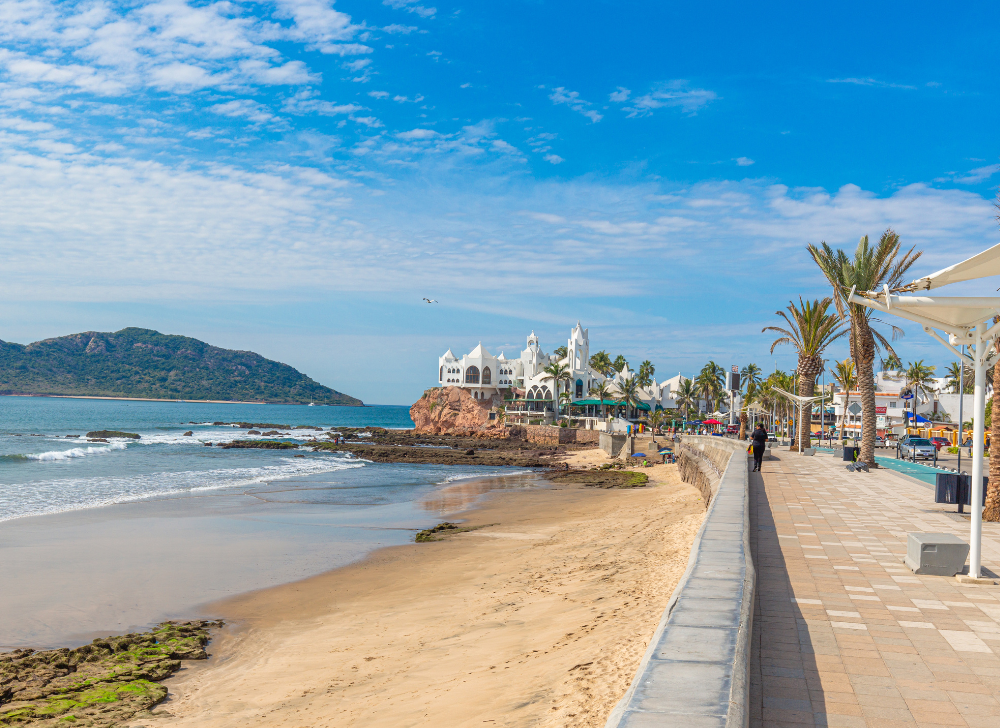 The Malecon of Mazatlan is a seaside boardwalk that runs 21 kms, from Olas Altas up to the iconic white castle on the rocks, at the beginning of the Golden Zone.
This entire area is currently undergoing a major real-estate boom, with new and luxurious condo buildings going up. The new condo's offer visitors stunning views of the Pacific Ocean, our 3 islands, and of course, a front row seat to Mazatlan's Carnaval celebration. Carnaval takes place in February, and is a show not to be missed.
The malecon is also frequented by runners, walkers, cyclits, roller-bladers, etc. as it is a safe place to get out and exercise. The area is well-lit and well populated, and there is a great bike path which runs alongside it for most of it's length.
One street back from the Malecon is the Parque Central (Central Park), as well as the brand new Mazatlan Aquarium – Sea of Cortez; a worldclass acuarium showcasing local sea life and vegetation.
More information
The water along the Malecon can be rough, with strong currents, but the beach is amazing and seems to go on forever.
On weekends, the Malecon really comes to life, with families and groups of people cruising in cars or sitting along the ledge of the boardwalk, visiting and enjoying themselves.
Marina Mazatlan is a bustling and booming part of the city. It is not only where boats come to dock, but where many people call home. The Marina area extends from the El Cid Marina hotel, just before the start of the first bridge heading North, and ends at the Costa Bonita Marina development, just passing the second bridge.
Secure neighborhoods and condo developments line the waterways of Marina Mazatlan, offering amenities such as pools, tennis courts, pickle-ball courts, etc.
The Marina also has a thriving business district, with many bars, restaurants and cafe's, as well as banks, grocery stores, and hospitals. Walmart and Sam's Club are the 2 major grocery stores here, but there are also small fruit stands, and people who will deliver fresh fish, etc.
Marina Mazatlan also has one of the nicest 18-hole golf courses in the city; a par 72, and designed by renowned designer, David Fleming in 2009.
More information
If you book a fihing trip, or a catamaran tour, you will likely board the boad somewhere in the marina, in the main bay or in front of the Costa Bonita Marina development.
This area is great for families, or groups of people from all ages.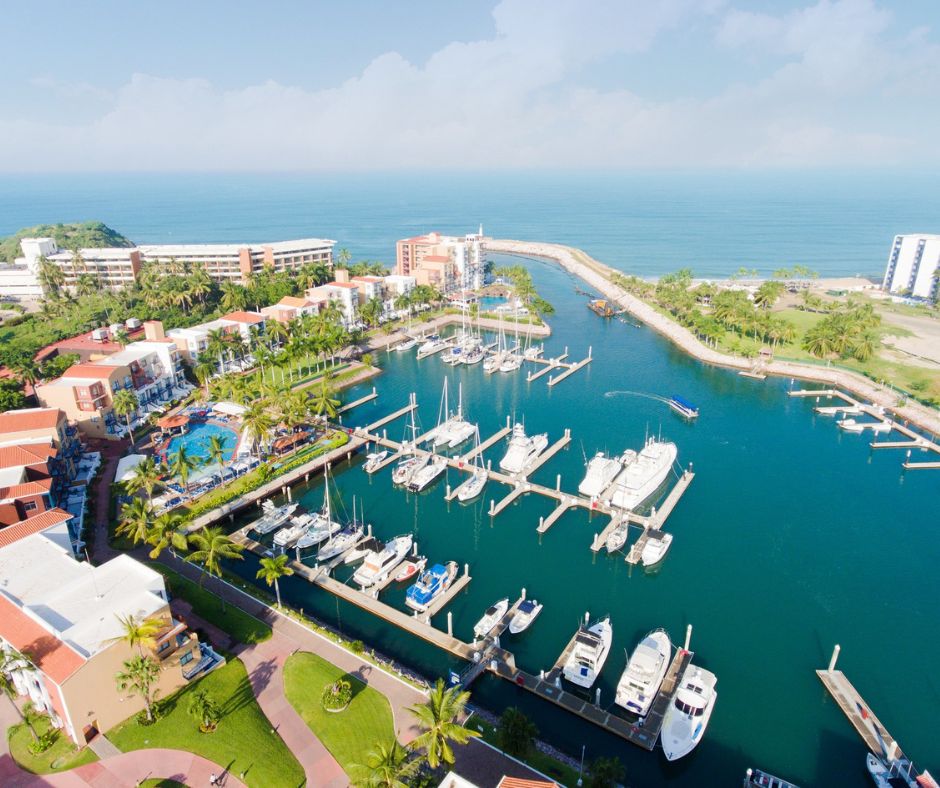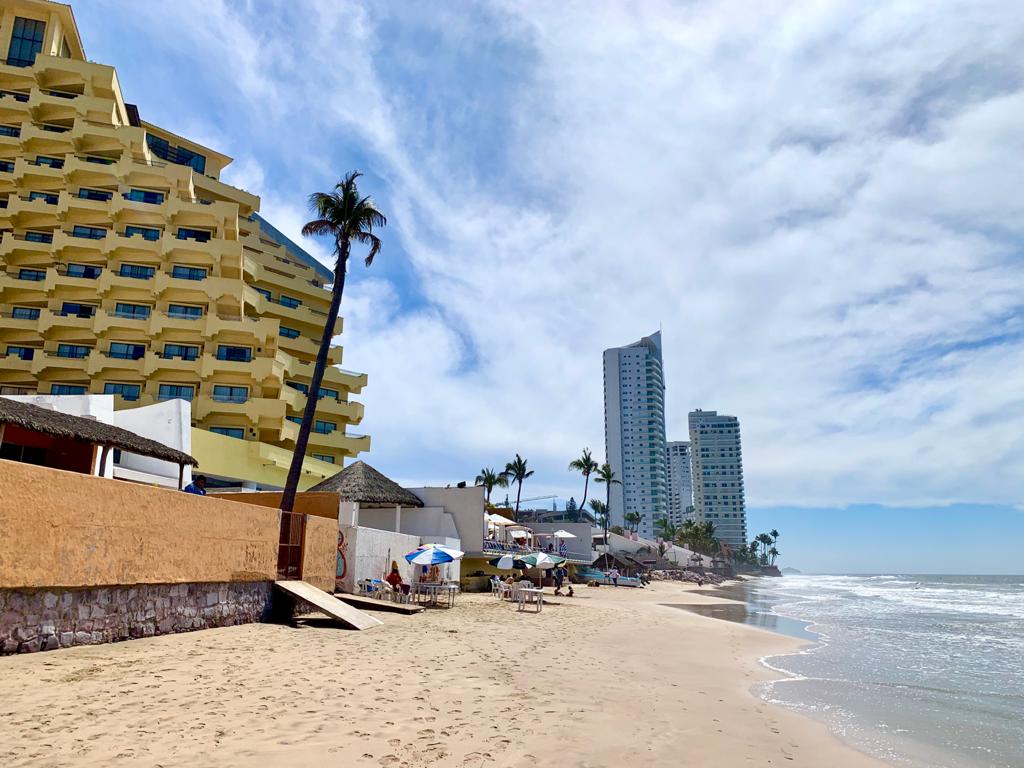 Mazatlan's Golden Zone is the city's premier tourism district. This is where the majority of the city's large hotels are, as well as small shops selling souveniers, licor, and sunscreen 🙂 It is a fast-moving neighborhood, with cars, taxi's and buses abound.
The neighborhood is walkable, and there are some great bars and restaurants to visit. There are also banks, money exchange houses, and grocery stores. Soriana is the main grocery store here. It is a modern grocery store, selling many of the foods found North of the border.
The beaches in the Golden Zone are fabulous. They aren't too steep, and the water is fun to play in. There are vendors on the beach selling everything from fresh fruit, to oysters in the shell, pizza jewelry, sunglasses, hats, and more.
Whether you are a fan of it or not, the Golden Zone is also famous for it's "Banda" music. This is generally played on the beach by live musicians, but can also be heard out on the street, on any given night in Mazatlan.
More information
The Golden Zone is a great place to come with friends or family, to get out and experience Mazatlan and Mexican culture.
Cerritos is at the Northernmost part of Mazatlan. It is known as offering a slower pace of life, with luxury beachfront towers, wide and unpopulated beaches, and quieter streets. There are a few hotels in this area, but for the most part, they are privately owned homes and condo's.
Cerritos is the newest area of the city, and is undergoing major construction. Beachfront condo's with incredible amenities, gated communities, and smaller condo complexes now run along the main road.
A new bike path has been completed recently, and runs along the entire meridian of the main road, Sabalo Cerritos. This is a great addition to the neighborhood, as it provides a safe and beautiful space to run, walk, bike, etc.
The beach at the North end of Cerritos is known as Playa Bruja, and is a great spot for surfing. The MazAgua water park is also located at the North end of Cerritos, and is a great place to spend the day playing in the water, and riding the slides.
More information
Cerritos is a little set-back from the hustle and bustle of the Golden Zone and Marina areas, but there is always public transportation to get you to-and-from where you need to go.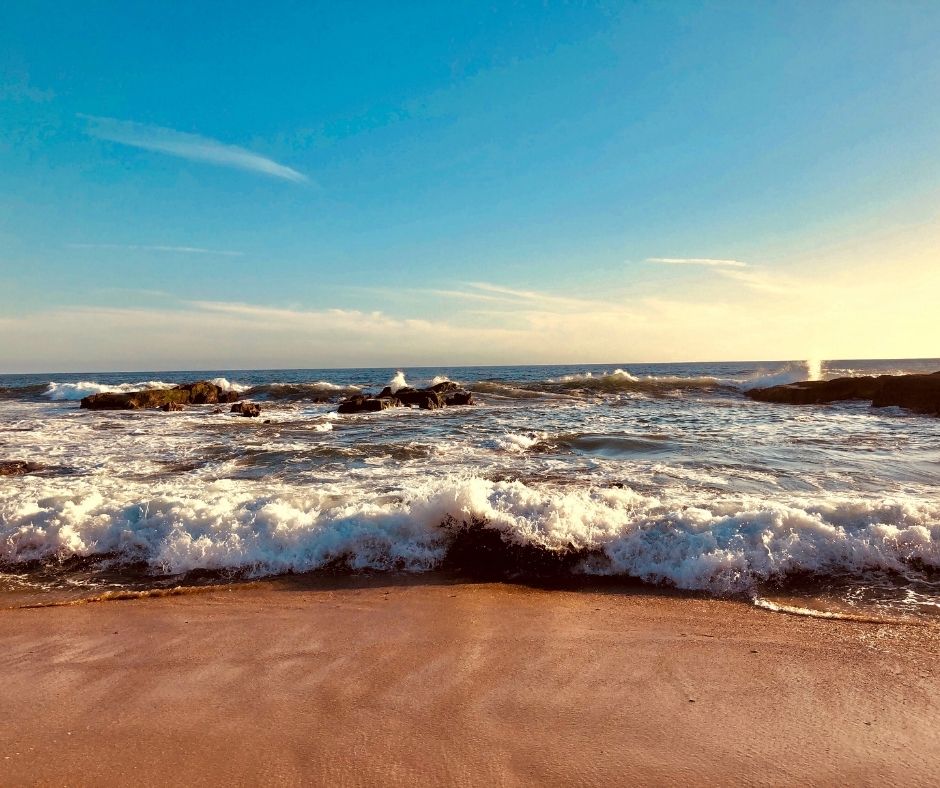 Find us
Blvd. Marina Mazatlan 2201-L-8, Marina Mazatlán, 82112 Mazatlán, Sin.
Email us
reservations@occanproperties.com